Pressure Reducing Pilot Valve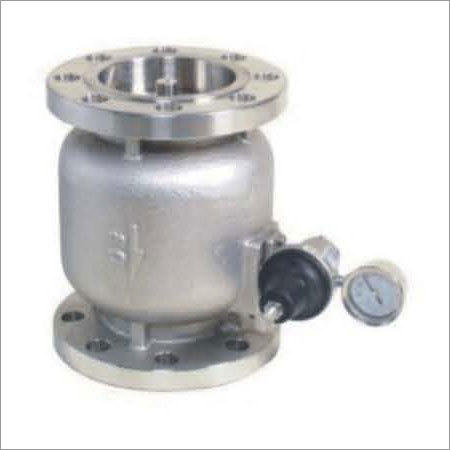 Pressure Reducing Pilot Valve
Product Description
Pressure Reducing Pilot Valve



Pressure Reducing Valve


Welcome to ELITE LINE INDUSTRIAL CORP, world's leading Pressure Reducing Pilot Valve manufacturer & Supplier company

| No leakage | Corrosion Resistant Finish | Space-Saving Design | Smooth Functioning | Long life |


Pressure reducing valve is helpful in preventing pipeline breakage due to high pressure. Pressure reducing valve is fitted in water supply pipeline as well as maintains setting outlet pressure in the main valve, regardless of different inlet pressure. The Pressure Reducing Valve find application in water supply, fire control and air conditioning systems to maintain setting outlet pressure. Pressure Reducing Valve use sub-valve (pressure reducing pilot valve) for controlling the main valve. When outlet pressure reaches set range of pressure reducing pilot valve, the pilot valve automatically senses the outlet pressure and helps in adjusting the pressure of back pressure chamber in the main valve. It enables the user to open the valve gate and consequently maintains the outlet pressure.


Pressure Adjusting Range : 1 ~ 7 kgf/cm2
(1 kgf/cm2 = 14.2 psi) 4 ~ 12 kgf/cm2



Products Features:


Helpful In Preventing Pipeline Breakage
Fitted In Water Supply Pipeline
Helps In Adjusting The Pressure Of Back Pressure
Easy Installation
Withstand High Pressure
Accurate Dimension
Abrasion Resistance
High Strength
Sturdy Construction
Excellent Surface Finish
Easy To Fix
Rugged Construction
Corrosion Resistance
Durable Finish Standards
Enables The User To Open The Valve Gate And Consequently Maintains The Outlet Pressure.


Product Options


Pressure Reducing Valve are Available in different Models for Air, Gas & Chemical
LP - Low Pressure Range 10 - 35 PSI
HP - High Pressure Range Max Inlet 40 Kg/cm2; Outlet 20 - 35 Kg/cm2


Media Where To Use !!!

Air, Water, Oil Gas, Steam & Oxygen, Nitrogen, CNG, LPG, Chemical.


Special order can be arranged for higher pressure adjustment range.


Pressure meter on the pilot valve displays outlet pressure. When the outlet opens, value of the pressure meter lowers down.
When the outlet is being used for large flow and the gate is generating quick-close motion, the pilot valve responds slowly to main valve to close the gate. In this situation, the outlet pressure gets increased by a little hence demanding the need of a tiny pressure reducing valve.


Pressure Reducing Valve Technical Specifications:


(Thread end)


| | | | | | |
| --- | --- | --- | --- | --- | --- |
| Item No. | Size | L (mm) | A (mm) | Weight (kg.) | CV |
| BTR-40 | 1.5'' | 120 | 170 | 3 | 48 |
| BTR-50 | 2'' | 200 | 190 | 9 | 75 |

(Flange end)


| | | | | | |
| --- | --- | --- | --- | --- | --- |
| Item No. | Size | L (mm) | A (mm) | Weight (kg) | CV |
| BFR-50 | 2'' | 190 | 180 | 12 | 75 |
| BFR-65 | 2.5'' | 210 | 185 | 14 | 105 |
| BFR-80 | 3'' | 225 | 200 | 19 | 140 |
| BFR-100 | 4'' | 250 | 222 | 26 | 260 |
| BFR-125 | 5'' | 280 | 235 | 37 | 390 |
| BFR-150 | 6'' | 310 | 260 | 50 | 550 |
| BFR-200 | 8'' | 420 | 300 | 94 | 1000 |
| BFR-250 | 10'' | 470 | 335 | 152 | 1600 |
| BFR-300 | 12'' | 530 | 370 | 202 | 2200 |
| BFR-350 | 14'' | 600 | 415 | 285 | 3000 |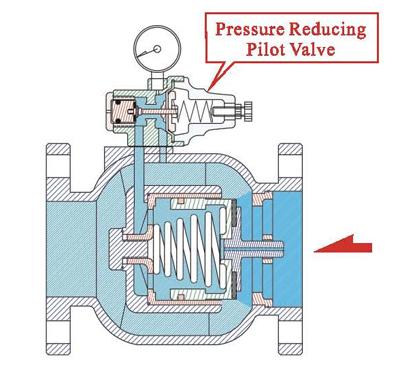 Contact Us
No. 40, Jialing Street, Cianjen District, Kaohsiung, Kaohsiung Shih, 80656, Taiwan
Phone :886-7-+918037401103