L-Type Water Hammer Arrester Valve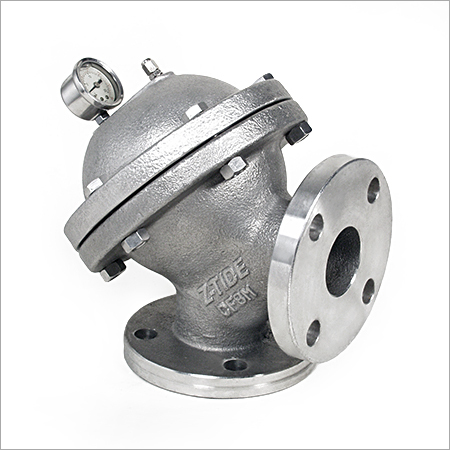 L-Type Water Hammer Arrester Valve
Product Description
L-Type Water Hammer Arrester Valve
Enriched with over 30 years of experience, we are engaged in offering a highly durable range of L-Type Water Hammer Arrester Valve to our clients that is widely used in water pipe lines for fitting purpose. The provided valve is designed for industrial and heavy duty, high flow, large bore industrial, food or chemical processing applications where trained engineers utilize specialized tools to deal with technically challenging water hammer pressure waves or from pump fed water systems. This valve is manufactured by our diligent professionals by utilizing quality approved raw material and advanced techniques. Available in specified size range 2 clients can purchase this L-Type Water Hammer Arrester Valve at industry leading prices.
Products Features:

High strength
Application specific structure
Withstand high pressure
Rust resistance
Product Major Accent:
The valve's flow-directing mechanism can guide flow and stabilize pressure.
Water hammer in the corner of pipe is obvious. Therefore, the design is to meet the requirement as well as set the arrester directly at the corner. This design is not only easy to set-up but also saves a lot of time, and can easily replace the traditional crooked head leading to reduction in the cost of setting up.
L style absorbs the water hammer effect in 2 ways and ensures excellent result.
Product Technical Details
The test pressure of valve body
Cast Iron and Bronze12kgf/cm2
tainless steel 35kgf/cm2
Diaphragm material: NBR
Applied temperature-15 ~ 80
Applied conditions: Fluid


Flange type (Material) : Cast Iron or Stainless Steel)


| | | | | | | |
| --- | --- | --- | --- | --- | --- | --- |
| Item No. | Size | A (mm) | B (mm) | C (mm) | Weight (kg) | Air Chamber (cm3) |
| ALF-50 | 2" | 230 | 110 | 105 | 17 | 1490 |
| ALF-65 | 2.5" | 260 | 130 | 115 | 21 | 2130 |
| ALF-80 | 3" | 275 | 140 | 125 | 22 | 2465 |
| ALF-100 | 4" | 345 | 155 | 150 | 34 | 5535 |
| ALF-150 | 6" | 467 | 200 | 200 | 70 | 15325 |
| ALF-200 | 8" | 560 | 235 | 232 | 124 | 27230 |
Thread type (Material : Bronze)


| | | | | | | |
| --- | --- | --- | --- | --- | --- | --- |
| Item No. | Size | A (mm) | B (mm) | C (mm) | Weight (kg) | Air Chamber (cm3) |
| ALT-15C | 1/2'' | 50 | 25 | 25 | 0.3 | 17 |
| ALT-20C | 3/4'' | 65 | 30 | 30 | 0.4 | 30 |
| ALT-25C | 1'' | 80 | 35 | 35 | 0.6 | 65 |
| ALT-32C | 1.2'' | 95 | 43 | 45 | 0.9 | 130 |
| ALT-40C | 1.5'' | 115 | 50 | 50 | 1.4 | 250 |
| ALT-50C | 2'' | 170 | 110 | 68 | 4.0 | 650 |
Contact Us
No. 40, Jialing Street, Cianjen District, Kaohsiung, Kaohsiung Shih, 80656, Taiwan
Phone :886-7-+918037401103